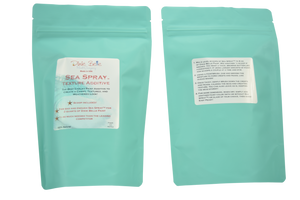 ShannyChic Design
Sea Spray
Regular price
$24.95
$0.00
Unit price
per
This is the Best Chalky Paint Additive to Create a Chippy, Textured, Weathered, Sun-Kissed Look!
Mix 2 level scoops of Sea Spray to 8 oz. of Dixie Belle Paint. Mix another ½ scoop, if needed. You want a thick, brownie batter-like consistency. If using larger amounts of paint, add scoops a couple at a time and stir.
Using a paintbrush, dab and smoosh the bristles to form crests and peaks, like ocean waves!
Once tacky, gently brush down the crests and peaks, calming the seas and creating texture. You can also leave as is, keeping the seas stormy!
For more dimension, when dry, simply add another paint color (with or without Sea Spray) or glaze of your choice, then sand! Easy Peasy!
Now you have a beautiful piece that looks like it's been around for ages! We encourage you to use your imagination!! Just like a day at the beach, there's no wrong or right way to use Sea Spray.
---